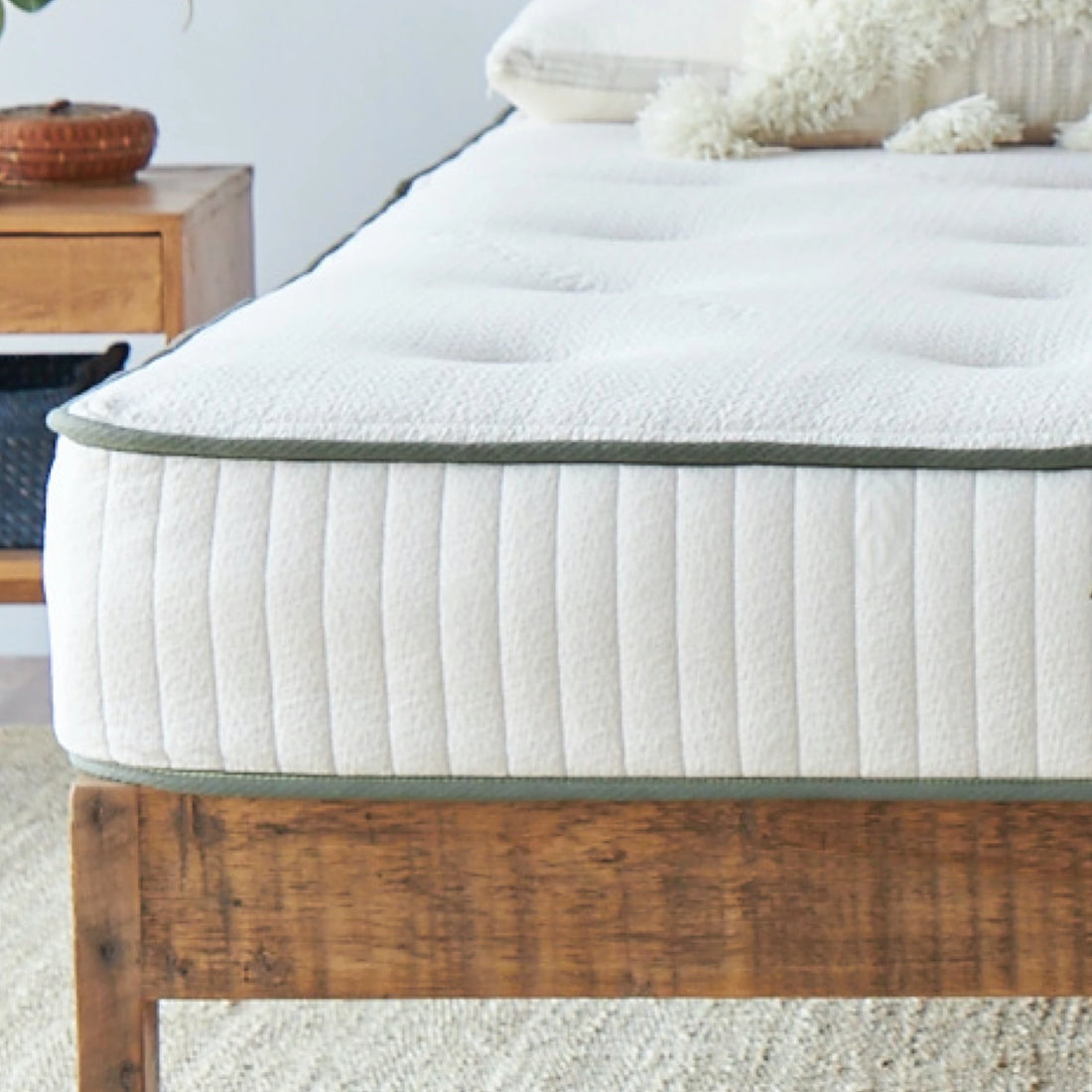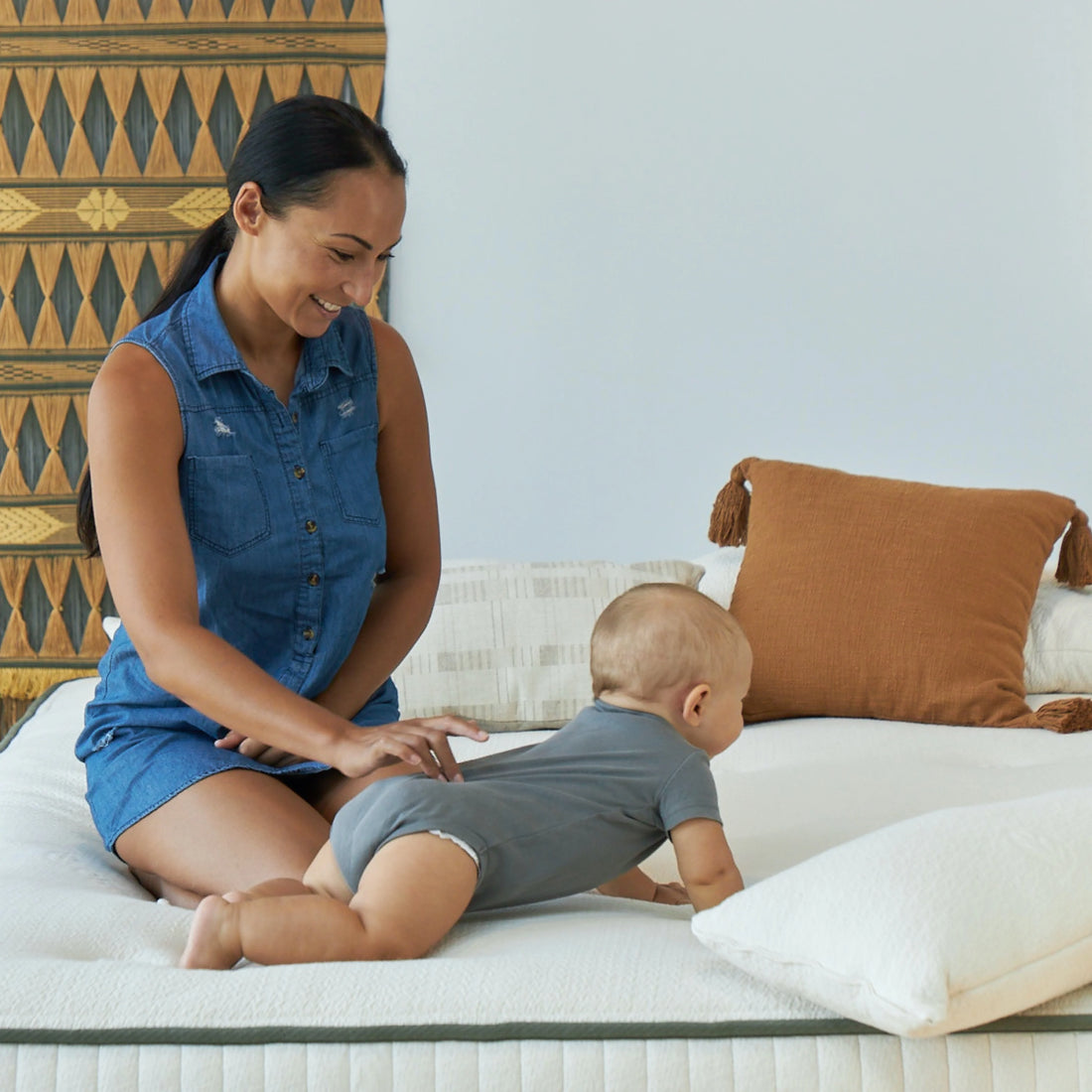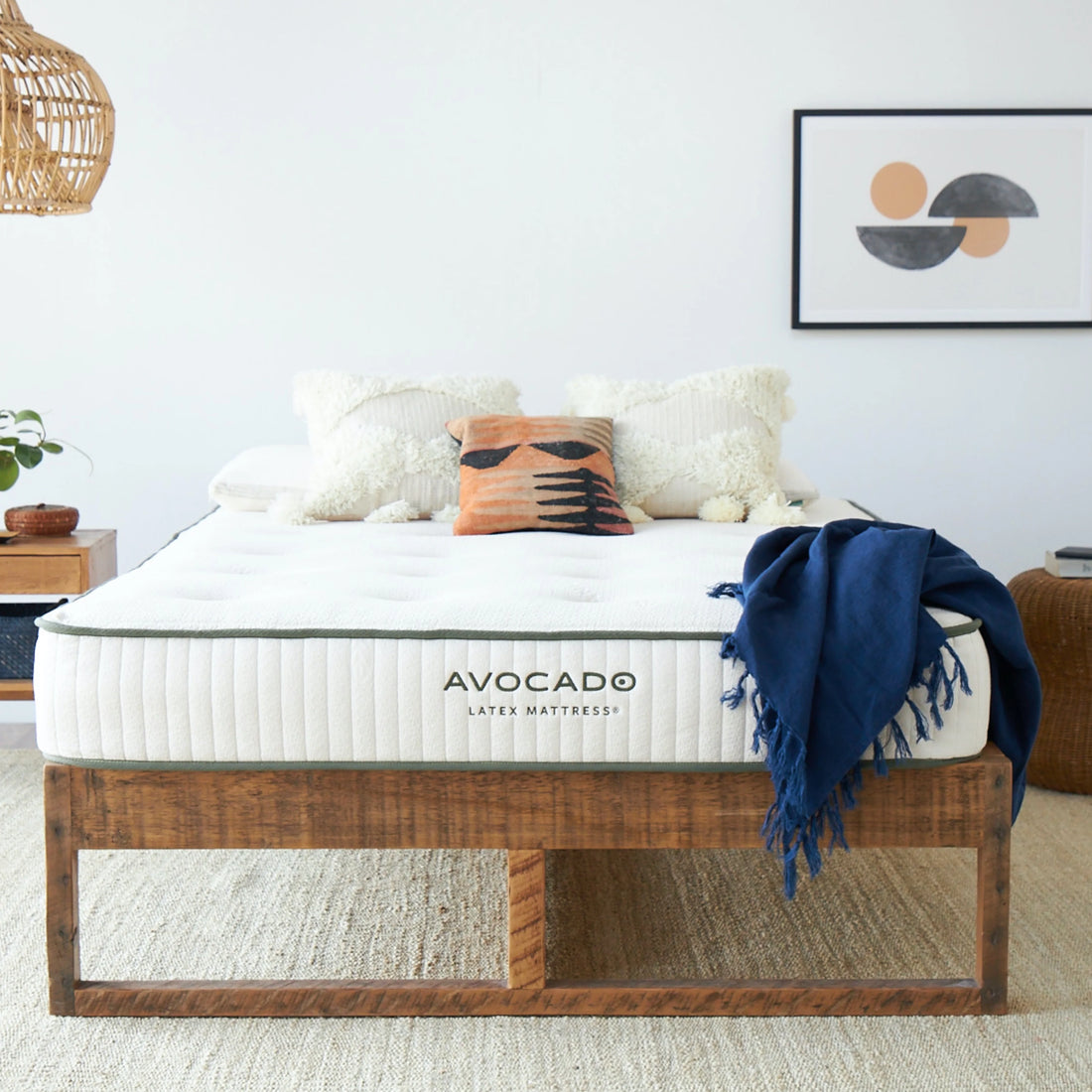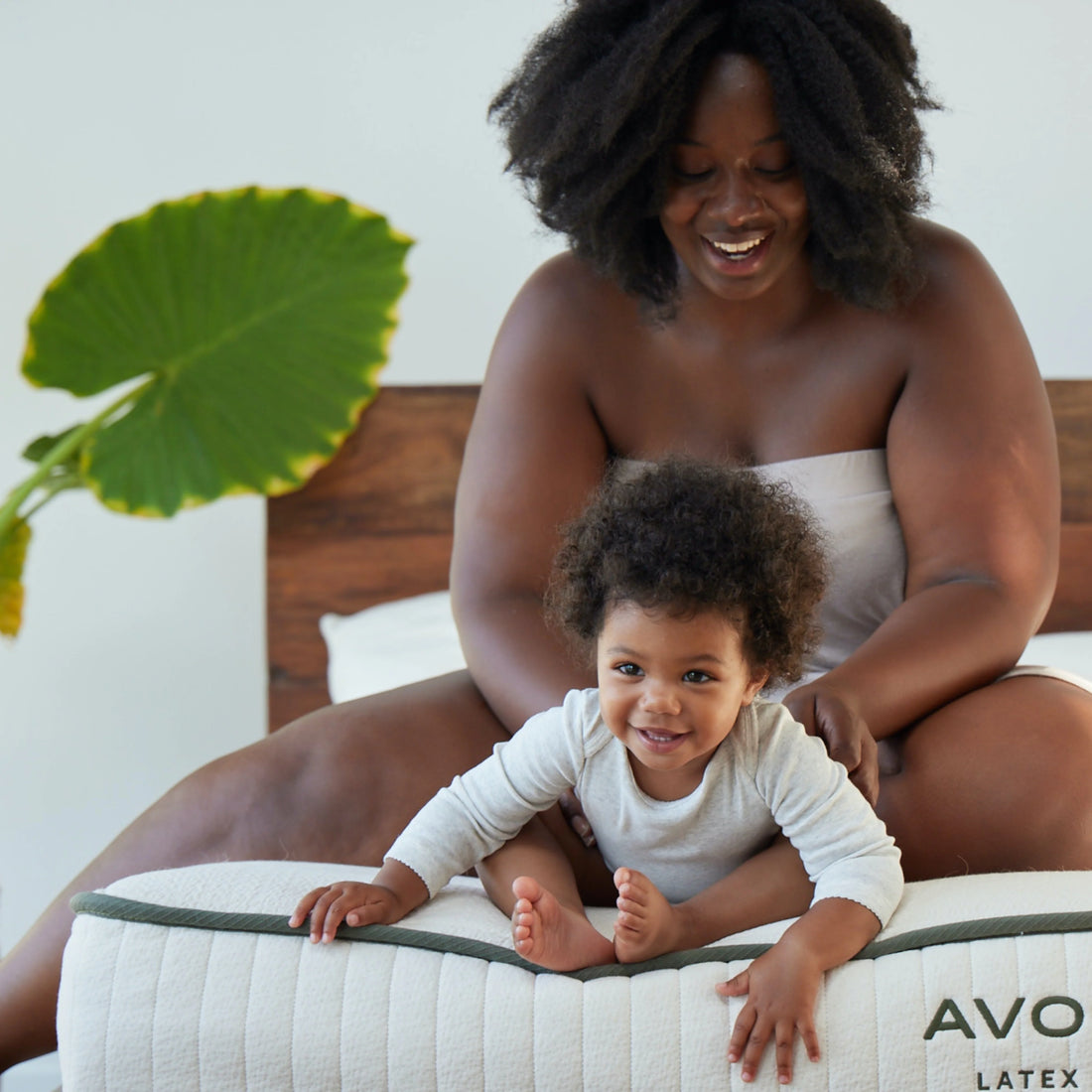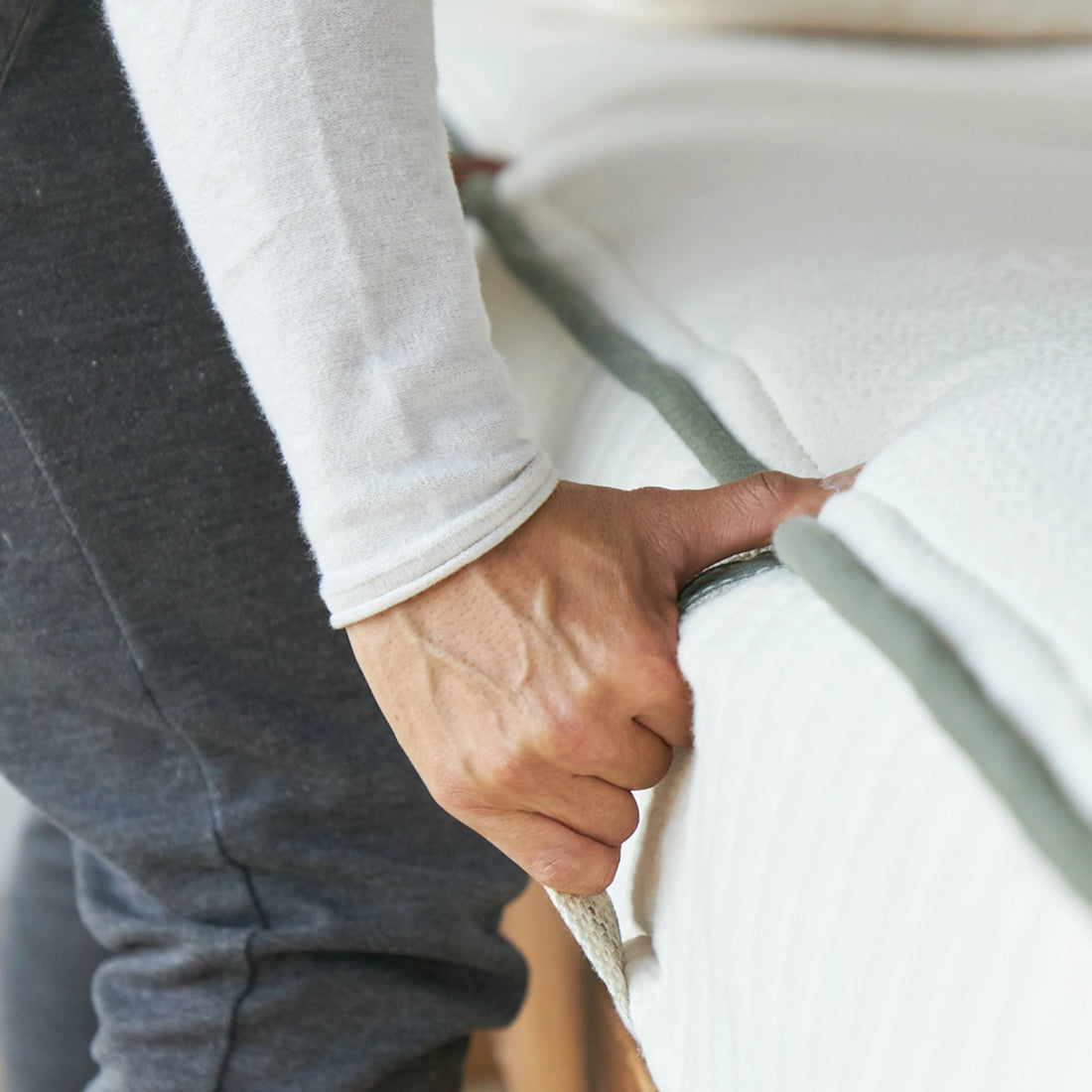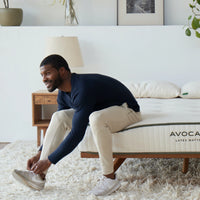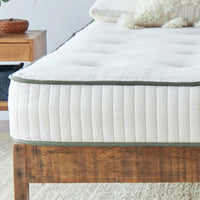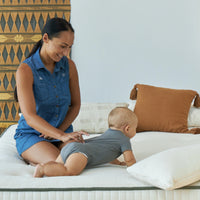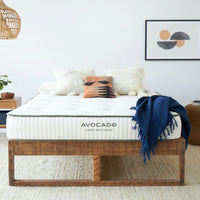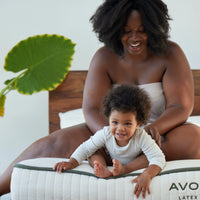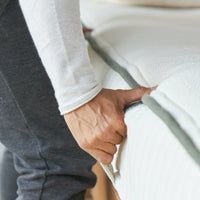 Avocado says: "Our all foam latex mattress (without springs) — our most sustainable mattress yet! Featuring a patent-pending design that delivers ideal comfort, motion isolation, and responsiveness. 100% organic certified, non-toxic, and biodegradable. 9 inches of organic latex, plus organic cotton and organic wool, 3 zones, 4 handles, bounce dampening layers, and a low profile. Handmade in Los Angeles using the finest domestic and international materials. Our firmest mattress."

Photo credits: Avocado
This mattress is made from 100% organic Dunlop latex, 100% organic wool and 100% organic cotton. It does not contain solvent-based glues, which are commonly used between mattress layers, and is made without polyurethane foam and chemical flame retardants. 
Certification to GREENGUARD Gold means that this product limits emissions of more than 360 volatile organic compounds (VOCs) and chemicals, and complies with the requirements of the state of California's Department of Public Health (CDPH) "Standard Method for the Testing and Evaluation of Volatile Organic Chemical Emissions from Indoor Sources Using Environmental Chambers, Version 1.2 (2017)," also known as California Section 01350. 
Certification to the Global Organic Textile Standard (GOTS) includes independent certification of the entire textile supply chain with strict controls on natural and synthetic chemical inputs—with verification and regular auditing to ensure adherence to the standard.
Certification to the Global Organic Latex Standard (GOLS) ensures that organically grown latex is traceable from farm to the final retailer, and sets permissible limits for harmful substances, emission test requirements and polymer and filler percentages.
Certification to STANDARD 100 by OEKO-TEX requires testing for up to 350 regulated and non-regulated substances which may be harmful to human health.
Formaldehyde Free validation by UL Solutions ensures that a product does not contain formaldehyde, or formaldehyde precursors, using a combination of auditing raw material inputs and testing chemicals emissions fro the product.
Certification to MADE SAFE includes independent third-party review that screens for 6,500 prohibited/restricted substances.
100% Global Organic Latex Standard (GOLS) and Standard 100 by OEKO-TEX certified Dunlop latex, Global Organic Textile Standard (GOTS) and Standard 100 by OEKO-TEX certified wool, 100% GOTS and Standard 100 by OEKO-TEX certified cotton


Global Organic Latex Standard (GOLS)
Global Organic Textile Standard (GOTS)
STANDARD 100 by OEKO-TEX
GREENGUARD Gold
Formaldehyde Free by UL Solutions
MADE SAFE
Avocado organic mattresses are handcrafted in California with only the finest naturally nontoxic and 100% certified organic materials, sourced from the best domestic and international sources, including their own farms in India and Guatemala. Their mission is to be the most respected source for organic mattresses, pillows and bedding at affordable prices—while maintaining environmentally conscious, ethical, and sustainable business practices—to help safeguard the health of people and the planet. 
shop all avocado